In Conversation with Nicholas Pearce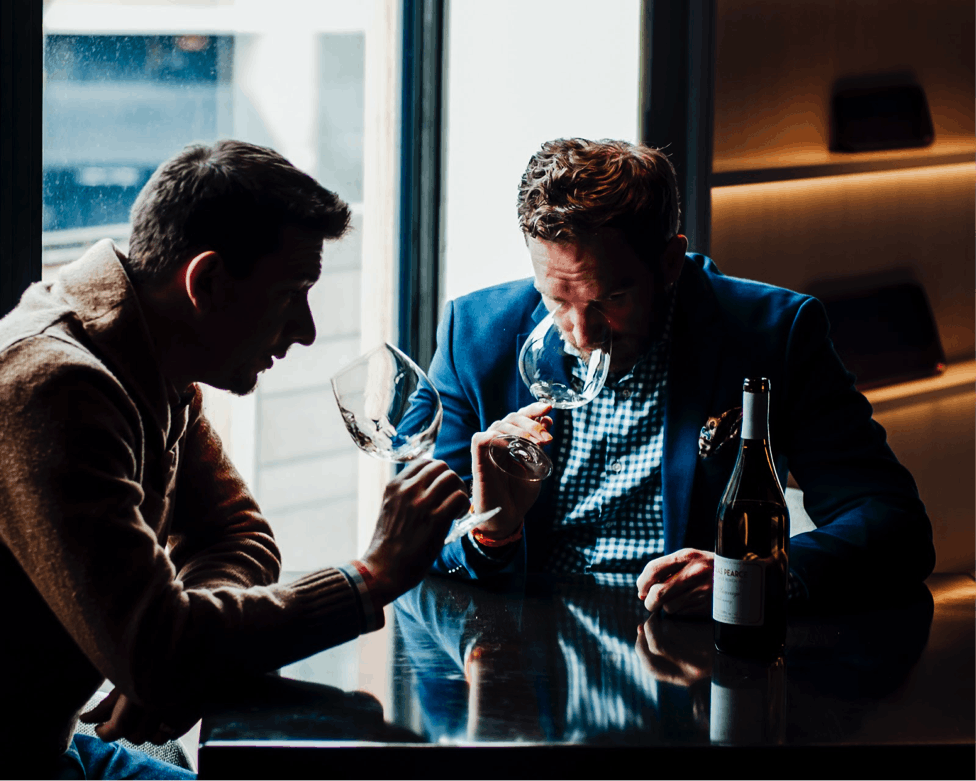 In Conversation With: Kasa Moto Beverage Director Jonathan MacCalder & Wine Maker Nicholas Pearce
At Chase Hospitality Group, our strength lies in the passion, dedication and enthusiasm of our team. Since Kasa Moto opened its doors in 2015, Beverage Director Jonathan MacCalder has overseen the creation of our ever-evolving wine, beer, cocktail and sake programs. MacCalder's keen eye and instincts guide our guests through a unique and often eye-opening experience, in part due to his curated list of suppliers such as Nicholas Pearce Wine Inc.
Nicholas Pearce and his boutique wine agency have been a staple on our wine list since the beginning, bringing in products that bridge the gap of fun and exciting varietals and regions that don't often appear in our backyard. Nicholas and his partners specialize in producing small batch wines from Prince Edward County, Niagara, Oregon and South Africa and are known for importing wines not just from heavyweights like Bordeaux, Burgundy and Piemonte, but also hidden gems from unheralded regions like Jura and Savoie.
This week, Jonathan had the opportunity to sit down with Nicholas over a glass of his acclaimed Crew Sauvage to chat about his experience in the wine business.
JM: How did you get into wine making?
NP: My first steps as a winemaker was in Bordeaux during the 2008 Vintage. I worked with a team of great french oenologists and really got to get my hands dirty for the first time. Bordeaux is a great region to learn because there are so many grape varieties in the vineyard; Sauvignon Blanc and Semillon for whites and Merlot, Cabernet Sauvignon and Cabernet Franc. My day to day role is currently Managing Director of Nicholas Pearce Wines Inc, and our all our wines in the Nicholas Pearce & Pearce Predhomme ranges use strategic partnerships with like minded winemakers in Prince Edward County, Willamette Valley and Stellenbosch. We are partnered with some of the best winemakers in these respective regions so limited intervention is needed. These guys and their teams are really fantastic at what they do, with similar philosophies, so we jump in mostly during the blending process.
JM: For those unfamiliar with Nicholas Pearce label and the new Crew Sauvage Chardonnay, VQA Twenty Mile Bench, what is its history/relevancy/usage. What makes it stand out, as it were?
NP: This is the first year we have released a wine from Niagara. Mother nature was cruel to us in Prince Edward County and we had a brutal frost in late May 2015 that decimated the vineyards. Instead we worked with a great Chardonnay that was grown in Niagara's Twenty Mile Bench. The name Crew Sauvage (Wild Bunch / Wild Growth) was chosen to tell the tales through this wine of our extreme, wild, harsh climate in Ontario. Using the careful spelling of Crew rather the Cru, is a shout-out to Ontario's Wine industry and Sommeliers, "The Wild Bunch". Jonathan is part of this great crew that have a work hard / play hard approach to the wine industry. Despite the long hours that these Sommeliers work, they almost always seem to be smiling and I love that they remain so passionate about their role in the wine industry. Plus, we all get to have a lot fun together.
JM: What's the process of bringing product to market / into restaurants?
NP: These wines are licensee - wholesale only. We make them in very small quantities for our restaurant clients and are therefore not available in retail shops or cellar door. Since we run a restaurant focused boutique wine agency, distribution is our specialty. The 2015 Crew Sauvage was fully allocated in less than two weeks from release.
JM: How do you select restaurant partners?
NP: We try to work with like minded professionals that are the best at what they do and also like to have a little fun. A true passion for wine is the only real criteria we have.
JM: Any anecdotes about working with Toronto restaurants and/or the Kasa Moto?
NP: It's been really great to watch Chase Hospitality grow over the last years. We were part of the original list at The Chase and have had a lot of fun working with the Wine Directors and Sommeliers at each new location. A good wine agent never shares his stories online, but rest assured there are plenty.
Connect with Nicholas Pearce Wines:
Instagram: @Nicholaspearcewines
Twitter: @Nicholaspearce_
#Crewsauvage