Colette Grand Café's Iconic Red Velvet Cake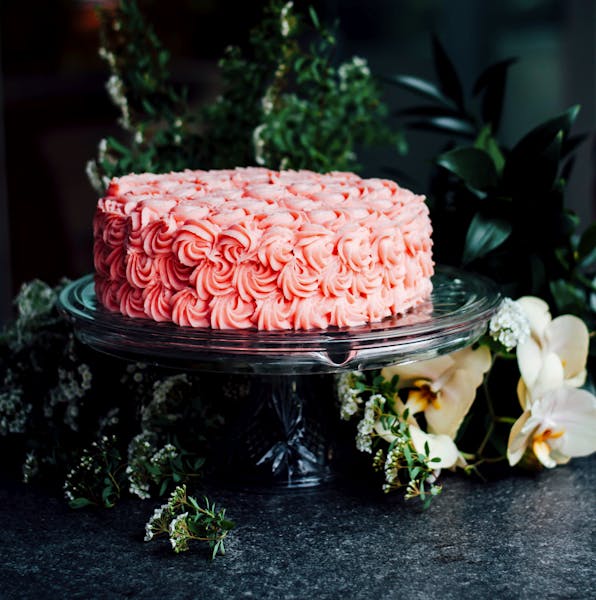 We affectionately know it as the Pretty in Pink, Colette's iconic Red Velvet Cake is famous for stealing hearts. We're delighted to share our beloved recipe to bake in the comfort of home.
Cream Cheese Icing (Prepare in advance)
3 cups cream cheese, at room temperature
1 1/4 cups butter, at room temperature
1 3/4 cups icing sugar, sifted
Paste from 1 vanilla bean pod (we adore vanilla from Tahiti)
For that pretty in pink colour, add a few drops of red food colouring into the icing

Directions
The trick to a great cream cheese icing is not using too much sugar.
Using the paddle attachment on your stand mixer and on low speed, mix butter and cream cheese until they have just come together.
Still on low speed, slowly add the icing sugar and mix until just combined. Add vanilla bean paste (and food colouring if desire).
Let set covered in fridge for 2 to 24 hours.
Red Velvet Cake Batter
3/4 cups butter at room temperature
1 3/4 cups granulated sugar
4 eggs
2 cups all-purpose flour
2 tbsp cacao powder
2 tsp baking powder
1 tsp salt
1/2 tsp baking soda
1 1/4 cups milk, heated to room temperature
1/2 cup good quality mayonnaise
1/3 cup beet juice
Directions
Preheat your convection oven to 325°F. Don't worry if you do not have a convection oven. The baking will just be a bit longer. (Insert a toothpick in the centre of the cake, towards the end of baking. A clean toothpick means the cake is ready to come out of the oven.)
Whisk the butter and sugar until light in colour. Next, add the eggs slowly, one by one.
In a separate bowls, sift the dry ingredients together (flour, cacao powder, baking powder, salt and baking soda) and mix the wet ingredients (mayo, milk and beet juice) together.
Alternate adding 1/3 of the wet and 1/3 dry ingredients at a time, to the butter and sugar mixture.
Grease and dust two 8" wide cake tins.

Bake at 325°F in a convection oven for around 40 to 50 minutes.

Assembly
Once the cake is cooled, shave off a bit of the top to make for perfectly flat cake top. Next, cut the cake through the middle, giving you two layers.
Spread cream cheese icing between each layer.


As is so trendy right now, opt leaving the sides sans icing for a naked cake. That being said, if your sweet tooth tells you otherwise, decorate the entire cake exterior using a piping bag fitted with a star tip #348.
For the summer, we recommend for that finishing touch, decorate with fresh flowers.