Redefining Girls Night Out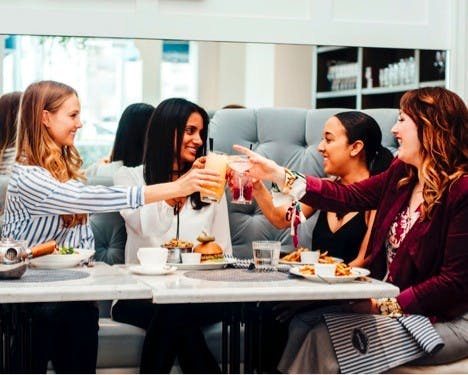 Earlier this year we put out a Colette Casting call, looking for a lineup of dynamic women to join us on International Women's Day for an afternoon of drinks, delicious food and discussion. Meeting for the first time, these four forces came together at Colette to share their unique perspectives and celebrate the many ways in which womanhood can inspire and elevate. Our elegant French bistro (with endless instagram-able moments) provided the perfect backdrop for the modern girl gang to meet up over great plates and delicious cocktails. Here's a bit more info about the crew of ladies who exemplified exactly that!
EMPOWERED & ELEGANT PROFESSIONAL
Lauren Howe | 23 | Engineer/Model | @laurenhowe77
U of T Engineering grad and model Lauren Howe is no stranger to breaking boundaries. As a STEM student and in-arena broadcaster for the Toronto Maple Leafs, Lauren demonstrated the versatility that comes with having confidence in one's self while challenging stereotypes and expectations with grace and elegance. She empowers herself and others to step outside their comfort zone, whether that means engaging in a lively debate or sitting down to a meal at Colette with a group of strangers! Her advice for navigating through a new challenge? Fake it till you make it. Having faith in your core competence is a key tool in building on your strengths and experience.
For Lauren, Girls Night Out is an opportunity to connect without everyday distractions. This could mean a cozy night of conversation over a great meal or a day spent exploring Ontario with their four legged friends, but ultimately it should be a chance to come together, shake off expectations from work, phones and romantic relationships and just be present with one another. As a former tomboy, Lauren is just as comfortable inviting herself along to Boys Night Out and erasing gender lines in pursuit of true connection and shared experience.
FEMME FOODIE
Palak Loizides | 32 | Founder, Embiria @paneerandfeta
Palak's words to live by come from none other than Maya Angelou - "My mission in life is not merely to survive, but to thrive; and to do so with some passion, some compassion, some humor, and some style"
This comes through in spades in the way in which she carves out space for her passions while fulfilling her entrepreneurial spirit. She parted ways with corporate business and marketing after 10 years to found her own company Embiria, which sets out to curate bespoke experiences in various categories such as Sweat, Indulge, Discover and Balance.
A true Femme Foodie, Palak cut her teeth with her own vegetarian food blog and is the go-to gal for restaurant recommendations among her pals and peers. A great atmosphere with cocktails and food are central to Palak's Girls Night Out. Akin to a modern day family dinner, it presents an authentic opportunity to come together with old friends (or in this case, new ones!) to share funny stories, successes and failures, and access each other's insight.
@embiria
CHIC CREATIVE
Kathleen Beaulieu | 36 | Artist, Flight Attendant
Living with flair comes naturally to Kathleen, an artist and flight attendant who finds beauty and creativity in everyday life. With a pencil, a paintbrush or a baking pan in hand, her personality shines through as does the care she takes in all that she creates.
In her line of work, she finds herself getting to know new people and perspectives every day and can be found sharing a meal with her colleagues anywhere across the globe. The world gets a little smaller with each connection, as they exchange customs and experience.
No stranger to strong women, Kathleen cites her mom as a source of inspiration. As she raised five kids, she imparted to Kathleen the importance of opening horizons and rising to the challenge that comes from identifying and pushing past your own limitations.
BOSS ASS BAE
Desiree Thomas | 24 | Photographer | @desiree_thomas
As a photographer, she recognizes the unique inner strength that each woman brings to the table. She solidifies her Boss Ass Bae status by leaving herself open to grow from the people in her life and gleaning valuable lessons from all who cross her path.
While there is always a lot to learn from those whose perspectives differ from your own, Desiree understands the great unifier - food! Girls Night Out is an opportunity to get in some quality time by sharing a meal before heading out to a party or event.
Our initial contest and casting call turned into a very meaningful experience as we partook in the wisdom of unbiased opinions, made new contacts and went on to celebrate International Women's Day together; all over a delicious meal by Chef Jen. The experience leads us to wish all of you many empowering Girls' Nights to come! And if you ever need an inspiring setting; look no further than Colette.